Interview – Jenny Soep
Lauren Mayberry chats to Scottish artist and live music illustrator Jenny Soep.
WHEN DID YOU START DOING LIVE MUSIC ILLUSTRATIONS? WHAT GAVE YOU THE IDEA?
During my time at Duncan of Jordanstone College of Art, Dundee, I experienced my first live Jazz concert. I wanted to somehow connect with the performance in a way that could express how I was being stimulated visually, sonically, emotionally, physically… Later, when doing my Masters, I was inspired by East Asian art with the permanence of ink, art of the incidental and focus on the 'now' where I specialised in 'experiential drawing'. Basically my aim was to create drawings that were affected by the situation/environment in which they were drawn, eg drawing while jogging, walking, in the rain and (ahem) driving 90 miles down the motorway…
Drawing the concerts and performances I choose to draw, is always is a very multi-layered experience for me, likewise for most people I'm guessing. When people go to a concert, they normally say they went to 'see' it rather than 'hear' it, but it's also about 'feeling' it too and sensing it on many different levels.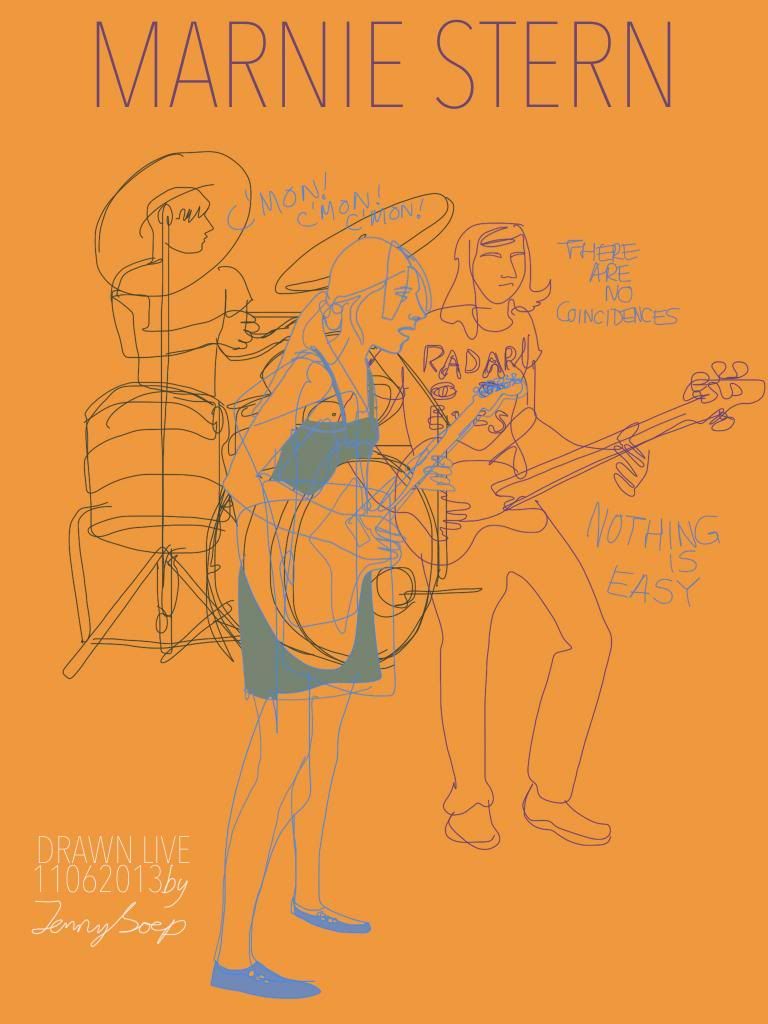 [Marnie Stern, drawn live on iPad, June 2013]

WHAT IS IT ABOUT THE LIVE SETTING SPECIFICALLY THAT INTERESTS YOU, RATHER THAN A MORE STANDARD PORTRAIT ENVIRONMENT?
I get a kick out of creating art that grows from nothing, like jazz improvisation – it relies on being in tune with your surroundings and celebrating the unexpected.
Many factors – including human interaction and the incidental – can change it wildly. Lyrics and the spoken words are very important to me too, as they incite a different level of memory in those viewers who shared the same experience.
Most of my art is created in the same length of time as the performance, although occasionally I 'accentuate' certain elements in a drawing after the event. I want each drawing to reflect the time available to draw it. A five minute sketch hopefully looks different than a 40 minute one.
WHAT OTHER ENVIRONMENTS DO YOU DRAW IN, OTHER THAN MUSIC? HOW DO YOU GO ABOUT CHOOSING WHAT YOU DOCUMENT?
I aim to draw the alternative, experimental and more creative live music and art(s) scene. I want to draw people performing their own creations in a situation that they've instigated. Likewise I love drawing people in their natural habitats and creative spaces. I also like to be challenged when I'm drawing in terms of access to the subject, personal safety, weather, endurance, delirium. Sometimes it can be really hard to draw when one is insanely sad or joyful – it's finding that calm in the midst of all that chaos that can be very addictive. I've drawn a boyfriend while breaking up with him, I've drawn an oyster-fisherman on his sailboat in the rain, I've drawn protest marches… But then there's boats and trees. I love drawing boats and trees.
WHAT MATERIALS DO YOU USE?
Just now, mostly iPad though for years it was waterbased materials on paper. I still go back to watercolours depending on the situation I'm drawing.
WHAT ARE YOU WORKING ON AT THE MOMENT?
I've currently got a residency in Stockholm at a really cool venue called Södra Teatern (South Theatre). I've drawn the likes of Bill Callahan, Bonnie Prince Billy and Dawn McCarthy, Ikue Mori, John Grant, Toumani Diabate and Holly Herndon. I'll be having a big solo exhibition there at the end of the year to coincide with this amazing sound art festival they have every January called Art's Birthday Party.
[Bonnie Prince Billy and Dawn McCarthy, drawn live on iPad, May 2013]
I have also been working in collaboration with a brilliant music promoter here called Gavin Maycroft or 'Mother'. He's brought in a lot of really exciting alternative music to Stockholm/Sweden and manages some exciting bands himself.
In July I've got a residency in Glasgow with the award winning playwright Lynda Radley. We've received a good bit of funding from Creative Futures and the Playwright Studio Scotland to work on a graphic novel together. It's been a lot of fun so far. It's based on two midwives whose practice is outlawed in an environment where birth has become over-medicalised. It's a work of fiction, although it's scary to find how close to reality it is.
Then there's the prestigious Polar Music Prize which I've been drawing for since Björk won it in 2010 (she's my idol). This year it's Youssou N'Dour and the experimental visionary Finnish composer Kaija Saariyaho. I think it's going to be pretty exciting this year, plus just today I had a chat with the TV channel that are broadcasting the ceremony. There are some exciting plans afoot, but that's all I can mention of it so far.
[Björk, drawn live on iPad, August 2012]
WHAT IS YOUR EARLIEST ARTISTIC MEMORY?
Gluing a shiny piece of paper on a felt tip pen drawing of a butterfly on a leaf. The shiny bit of paper was to represent a dew drop. I was in Primary 1. The addition of the shiny piece of paper made it magical.
WHO ARE YOUR ARTISTIC ICONS?
Good grief. There's a few. Okay, currently – Björk, PJ Harvey, Stina Wirsén, Yoko Ono, Joanna Rubin Dranger, David Downton, Julia Midgely, Mary-Clare Foa, Richard Johnson, Picasso, Patti Smith, my sister, my mum, my DOJ buddies Karen, Kyla, Sharon and Vicky, any female graphic novelist, the ladies behind Team Girl Comic, Quentin Blake, Henri de Toulouse-Lautrec and Ken Currie.
WHAT ARE YOUR FAVOURITE PIECES OF WORK TO DATE?
I'm pretty chuffed with my recent drawings of Bonnie Prince Billy & Dawn McCarthy, Ela Orleans as well as the Swedish band Time Is A Mountain that I drew in a fantastic second hand shop called Rönnells Antikvariat in Stockholm – it's a brilliant little place that regularly has really beautiful exhibitions, concerts and intriguing events. It's run by an equally artsome and fantastic bunch of people. As with all great book stores, it's being threatened with closure. I really hope it survives.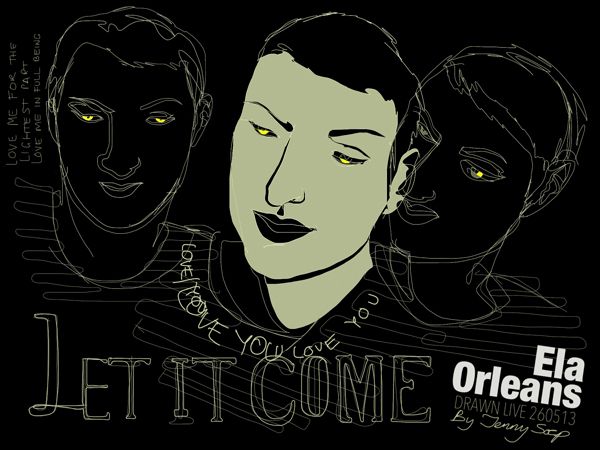 [Ela Orleans, drawn live on iPad, May 2013]
I also recently had the privilege of creating some illustrations and live drawings for a presentation on Circular Economy by the hugely inspiring Dame Ellen MacArthur. I really believe we have to take more responsibility for our world, but it's also an exciting, innovative and commercially rewarding initiative.
[Ellen MacArthur's Circular Economy, drawn live, watercolour on paper, March 2013]
WHAT HAS BEEN YOUR BIGGEST "OH MY GOODNESS, I CAN'T BELIEVE I AM DRAWING THIS PERSON" MOMENT SO FAR?
Well, it's always really cool when the musicians directly know that I'll be drawing them, and then I meet them afterwards. Flaming Lips, Sigur Ros (drawing them from side stage at Connect Festival!), David Byrne, Amadou and Mariam, Little Dragon, (Drawing on stage for Maximo Park – that was surreal!).
A really super exciting moment was when Patti Smith actually went out of her way to come over and see what I was doing when I was drawing the Kronos Quartet who were having an interview before her. A couple of days later I got her to sign the drawing I did of her and she wrote 'good work' on it. That was after 3 hours of signing books and CDs for other folks. She's a legend. Working for the Polar Music Prize is always really really nerve wracking, but really cool at the same time. It will be fun to see what I'll get to do for them this year.
[Sigur Ros, drawn live sidestage, watercolour on paper, September 2008]
[Patti Smith, drawn live on iPad, August 2012]
[Patti Smith in conversation, Polar Music Prize, drawn live, watercolour on paper, August 2011]
For more on Jenny's work, visit http://www.jennysoep.com.
[Lauren Mayberry]